The next month is going to be filled with surprises for you! We're launching the #GATSBY4You campaign and there are tons of exciting stuff to look forward to.
The campaign is created out of our dedication to always be there for you, the younger generation. We've helped young men like you to pull off the 70s shaggy, the 80s mullets, the 90s mid-parted hair, emo cuts, and more.
Now that your generation is into a classic, set, and neat hair style, we are supporting you with your current hairstyling needs.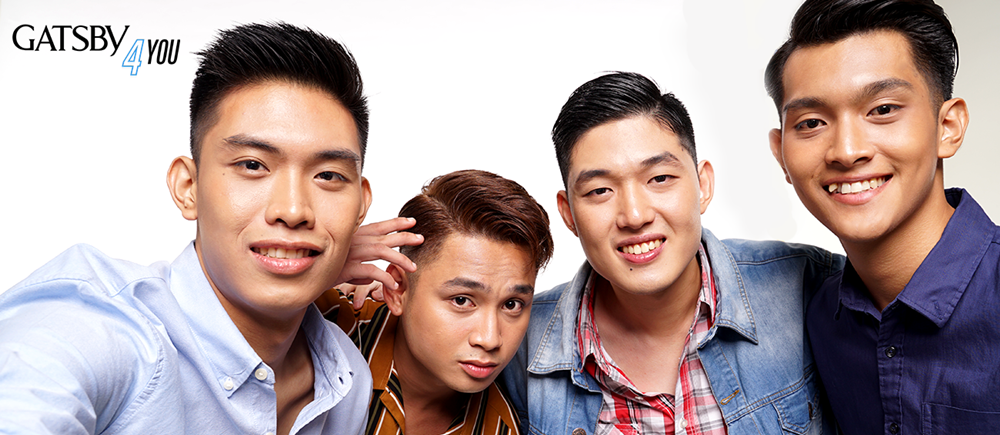 We listened and made these neat and set hairstyles easier to pull-off. It's what we do because GATSBY is your buddy. We help you find fun, style, and fashion, and make it within reach. Want to express yourself? Your buddy will help you stand out from the crowd with your own personal style, that's why countless young men depend on GATSBY for grooming.
There's a whole generation tied together through shared experiences like passing around pomade and experimenting with new hairstyles before a night out. We try to be the spice of everyday life -- against the status quo but in a fun, witty, and sophisticated way.
This year, GATSBY is spicing up life once again with new features and products geared especially for you. We are now online! Welcome to the new GATSBY Philippines website. You'll find out how to create the style you want with our products, and we made it easy to find them with our store locator. If you need inspiration, our Gallery features what other GATSBY users like yourself are doing.
We are debuting a new brand ambassador for you. He is a true GATSBY Gent, an ideal buddy with grooming and fashion sense. Can you guess who he is? Visit our Facebook and Instagram to find out! Most importantly, we launch a new hairstyling product designed to help you create your set and neat hairstyle.
But that's not all. Our GATSBY team will come to your campus. There's a lot of surprises waiting for you, including stylists to help you make over. Subscribe to our Facebook and Instagram pages to learn if we're visiting your university.
Lastly, we will need your help to find our next GATSBY Gents who embody a dapper style and the virtues of a true buddy. Winners will get the chance to show off their looks and abilities so we hope all of you can join.
More will be coming from your buddy, GATSBY. We are a part of your life and your generation. We promise to bring tons of excitement, opportunities, and style for you.