There's an ever-increasing array of hairstyles available for the modern man — essentially, a cut for every personality. Whether it be short, medium, or long hair, there's bound to be a hairstyle that suits you best, so step out of your comfort zone and try something new!
Because men's grooming continues to evolve, reflecting the nature of the times, we created this guide listing 65 men's hairstyles and variations we think will be showing up on the runways and streets in 2022. First, check out the trendiest styles just below, then keep scrolling to find even more styles that fit your hair length with our comprehensive list of the best hairstyles today! Alternatively, If you're on PC, you can jump to any section of this article from the table of contents on the right side.
---
Popular Hair Trends in 2022
Since the outbreak of COVID-19 in 2020, our lifestyles have changed dramatically. Societies across the world started advocating the use of face masks. Since more time is being spent at home, and a mask covers your face when you go out, many men have opted to grow a beard. Most countries around the world have imposed strict social distancing rules — this means fewer chances to visit hair salons and barbershops. So, some men are taking their styling needs into their own hands more frequently — which pushed the hairstyle trend to two opposite directions - some went for shorter hair they could cut themselves, while others started growing out their hair. and that's where GATSBY comes in!
GATSBY is the leading source for all that's trending within the world of hairstyles in most Asian countries. The brand was established in 1978 and has been producing a wide range of products for men with its extensive knowledge of hairstyle and expertise in predicting upcoming trends.
In 2021, the world of men's hair trends changed due to the continuing pandemic and emergence of gender-fluid and throw-back '90s appeal. This set the stage for 2022, which we anticipate will be a year of long, natural looks that boast '90s grunge aesthetics and modern mullets — which originated from 2021's long hair trend. We also think there will be a rise in popularity for perm hairstyles, as well as short messy styles with added volume.
Curious to see what GATSBY has deemed as soon-to-be-popular? Read on!
Grunge Medium (Curtain Hair)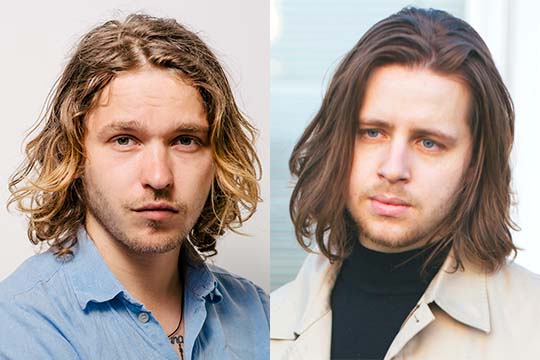 A clear throwback to the 1990s, grunge curtain hair is going to make a comeback in 2022. We've already seen it popping up more and more often — and it's not even the new year yet. Longer, curtain hairstyles are growing in popularity from 2020 due to the pandemic, as many were forced to go barber-less.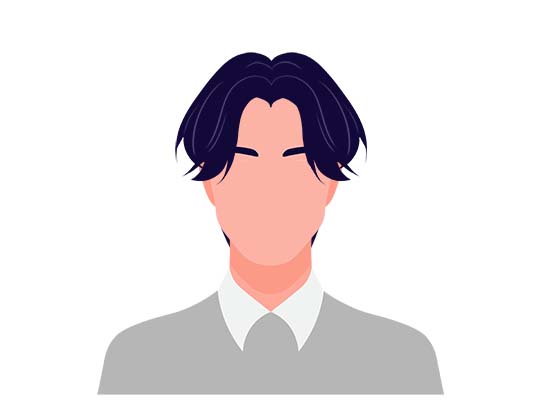 Curtain styles are in line with the gender-fluid style movement, as both men and women can have a curtain hair cut with bangs parted down the centre. The curtain hair is also ideal for men with long hair when wearing a mask, because it makes it easy to sweep the hair on either side away from the face, keeping your forehead and eyes visible.
Grunge is an evolution from simple curtain hair, its early adopters of this new trend are likely to start with what we'd call a "grunge medium curtain hair" style, which consists of medium-length, natural hair with a centre part and plenty of movement, giving it a rock-and-roll, grunge look reminiscent of popular '90s stars like Kurt Cobain.
Modern Mullet - Popular from 2021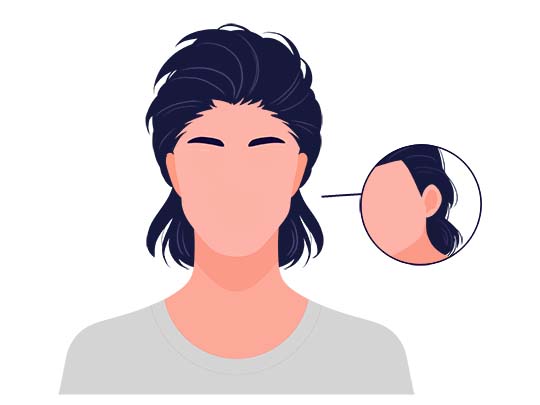 In 2022, We expect to see the comeback of the 2000's wolf hairstyle, this can be confirmed with the women's hairstyle trend that similarly featured mullet and Neo-wolf style with more hair at the nape of the neck.
With fewer chances of going to the barber and more time spent at home, it called for fewer occasions that required hard-set hairstyles, which lead to the rising popularity of natural style haircuts. This, also meant the short-cropped style ceased its popularity.
Relaxed and gender-free were some of the key themes of the latest collection of leading fashion brands, which helped push the popularity of longer hairstyles further.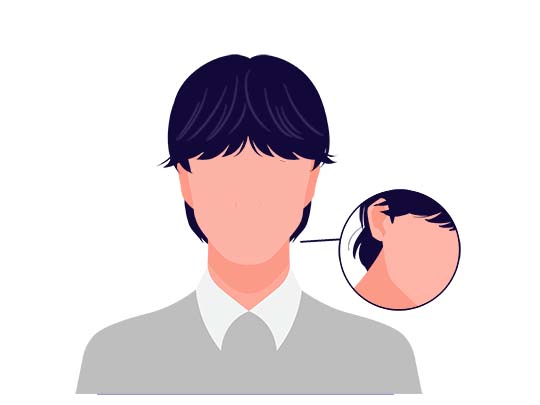 With fewer chances of going to the barber and more time spent at home, short-cropped style ceased its popularity. This also meant fewer occasions that require hard-set hairstyles, which lead to the rising popularity of natural style haircuts. Relaxed and gender-free were some of the key themes of the latest collection of leading fashion brands, which helped push the popularity of longer hairstyles further.
Modern mullet is a popular long-collared hairstyle that leaves more hair at the nape of the neck and offers a lot more movement than the traditional mullet or classic cuts.
Tail Cut with Leaf-shaped Bang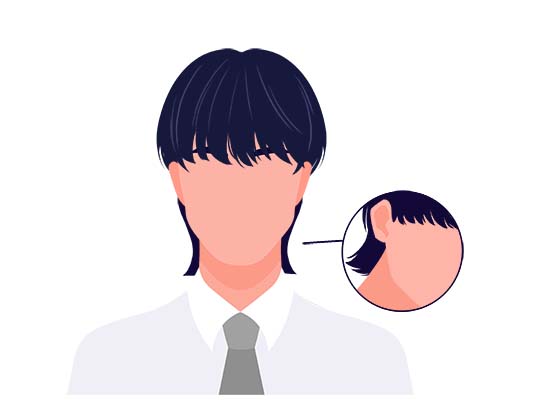 This modern hairstyle is popular in Korea, and as such, we expect it to sweep across Asia within the new year. It's a combination of styles that consists of longer "tail" hair in the back, with an optional leaf-shaped bang in the front. The tail cut leaves the back of your hair falling onto the neck at the nape.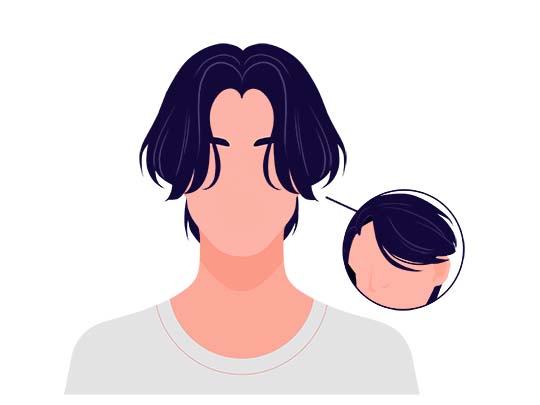 The "Leaf" cut can be recognized by its titular long bangs in the front that are parted in the middle that resembles a leaf motif. This is a versatile hairstyle that can be worn with curly, wavy, or straight hair.
Perm, Wavy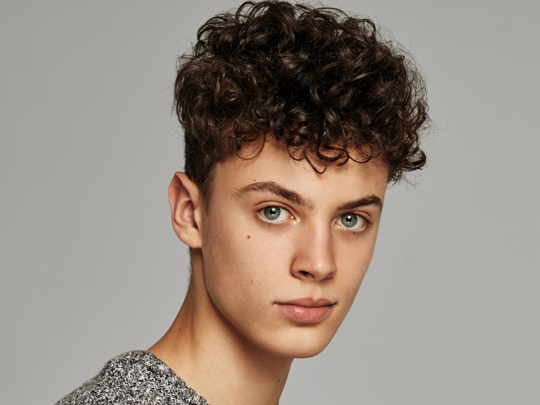 Wavy perm hairstyles are a great way to break free from the hardship that the coronavirus outbreak has caused and, for many Asian men, it's a very appealing trend. This is especially true when the man in question has a comma or curtain hairstyle that they're growing out.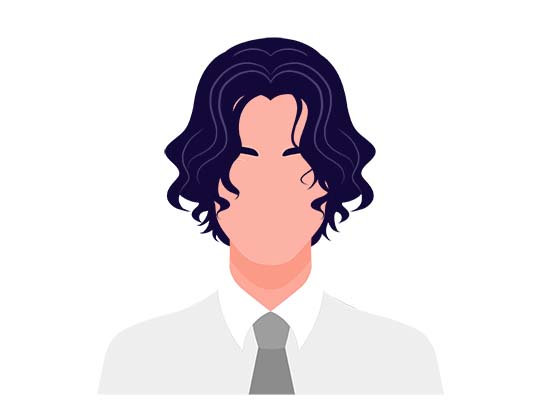 Perm hairstyles are especially prevalent in East Asia, with perms that feature a strong ridge being the choice for many men. Wavy perms are great for adding movement to an otherwise stiff hairstyle and for working with a short hairstyle that is growing out.
Short Messy and French Crop
In 2022, we're still expecting to see short styles. More specifically, short hairstyles are slowly gaining popularity as the virus settles down, both because the frequency of haircuts will increase (some men just want to say goodbye to their long hair) and because many men want to play with their hairstyle. In the same vein, they may also want to grow out their self-done short haircuts just a bit, transforming their buzz cut or crew cuts into a short messy or crop style.
Short Messy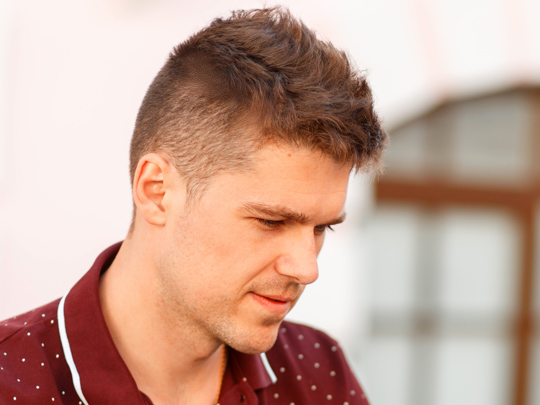 Short messy hairstyles are easy to pull off and can be very versatile, making them a good choice for men who work in a variety of sectors and hold various jobs. Short messy styles can be paired with other styles such as fades and beards. These styles can be worn wavy, curly, or straight, and can be cut very short or a little longer so that hair falls onto the forehead.
Short messy hairstyles can do wonders for one's appearance when paired with tailored clothing or a personal aesthetic. For example, when paired with leather jackets, studded shoes, and bold sunglasses, short messy hairstyles make the wearer look like a rockstar.
Messy Cropped Top & Low Fade - Popular from 2021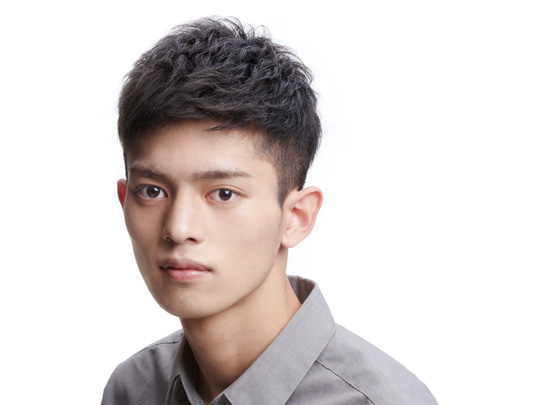 For those looking for a messier hairstyle that involves low fades, there are few better options than the messy cropped top. Cropped tops are hairstyles that, as the name suggests, crop the top part of the hair while cutting the back and sides, usually in the form of a fade. Cropped tops are typically paired with middle or high fades, but low fades work just as well.
Low fades look best with cropped tops when they're messy. Messy cropped tops aren't well-suited with the neatness of high and middle fades, which is why they work so well with low fades. If you'd rather have a neater cropped haircut, you may want to go for a middle or high fade instead.
French Crop - Popular from 2021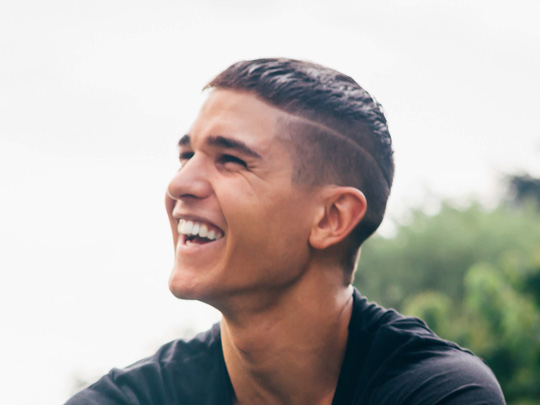 The French crop isn't for everyone. It's an interesting mix of a traditional cropped cut and a short-to-long fringe. The top of the French crop is more voluminous than its most similar cousin, the buzz cut. Admittedly, French crops are hard to pull off, so before committing to one it's important to know that you're a good candidate or, at least, be aware that the French crop is a risk.
Textured Crop Top Fade - Popular from 2021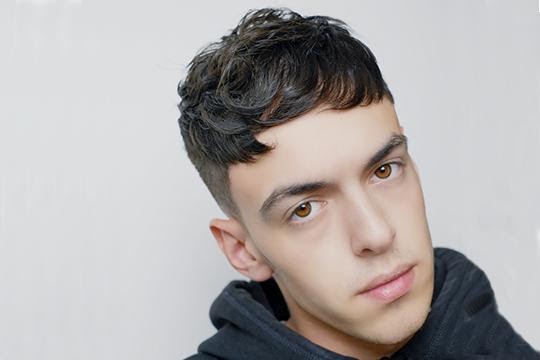 Since the crop is such a standout hairstyle as it is, it's seriously no wonder that adding a textured top and a fade make this style go from 10 to 100 on the style scale. The textured crop top fade haircut is a careful combination of a traditional crop and a high fade. The style gets its name from the fact that the fade is so high that it almost seems to be a 'top fade'.
With this hairstyle, the voluminous portion of the hair is textured; it might be spiky, curly or wavy, which gives the haircut an added boost of dimension and intrigue.
Scissor Crop & Mid Fade - Popular from 2021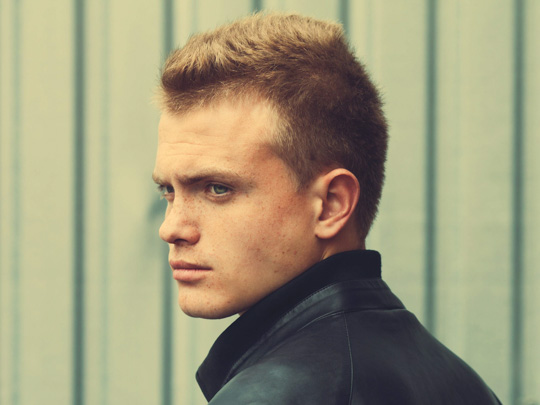 The scissor crop and mid fade are similar to the messy cropped top, but this time with a mid fade instead of a low undercut. This hairstyle uses a scissor crop on the top of your head, which is a variation of the crop haircut. As the name suggests, the scissor crop involves the use of scissors instead of shavers to get the job done.
Combine the scissor crop with a mid fade, and you've got yourself a neat-looking hairstyle, which is perfect for men who are a little insecure about their forehead size. Don't worry, we've got you.
Icy Cold Young French Crop & Highlights - Popular from 2021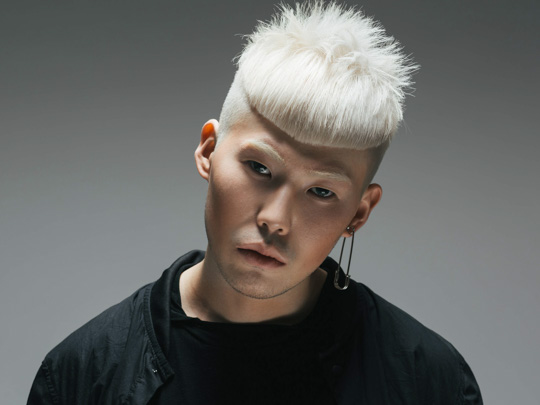 Not happy with the Crop hairstyles above? If you really want to stand out, this playful variation of the crop hairstyle should do the trick. French crops are already standout material, and with some extra highlights, you'll be looking younger and more colourful than usual. You can even take it one step further and dye your hair before adding highlights
Even More Popular Men's Hairstyles to Try In 2022
Did any of the 10 hairstyles above help you find your next look? If not, don't worry! To help you find the best style for your hair, we've compiled men's classic hairstyles below that are sure to remain popular throughout 2022.
Short Hairstyles for Men
Short hairstyles can go from simple, low-key cuts to longer, more striking hairstyles. They're generally also one of the most accessible types of haircuts to work with, but you'll need to frequent your local barbershop if you're looking to keep up with the look.
Short Quiff
The quiff is one of today's most popular trending hairstyles — especially among teens and young adult men. It's a safe pick for anyone that's looking for a cool hairstyle.
Textured Quiff Mohawk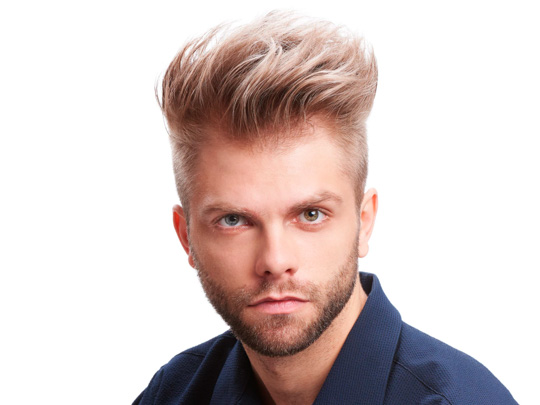 "Quiff" refers to hairstyles that combine different aspects of various older hairstyles. It often features aspects of both the flattop and pompadour of the 1950s and/or the mohawk. It effectively takes the best aspects of these styles and combines them, transforming them into something new entirely.
When you have a quiff style, its shape is very important. That's why it's necessary to have a variety of styling products on hand — especially if you like to be active or spend time outdoors. It's a fairly demanding shortcut, but it's well worth it if you ask us.
Short Curly Quiff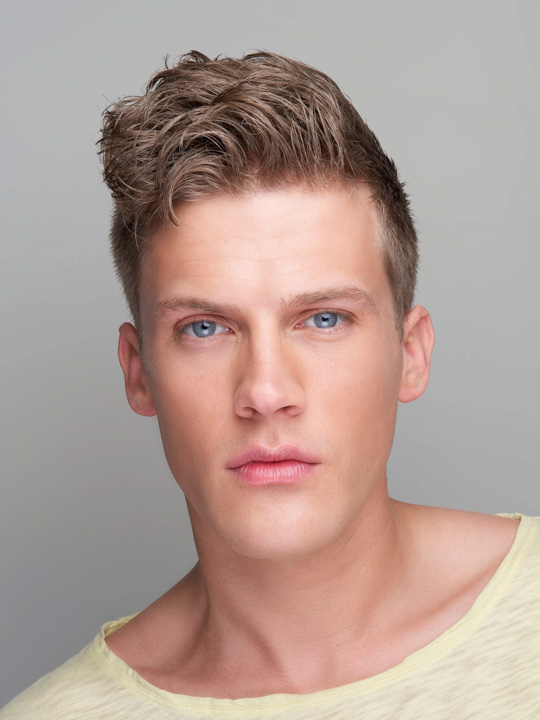 An alternative to the regular quiff, the short curly quiff does more in terms of offering a natural-looking quiff cut. It uses the curliness and messy nature of one's own hair and doesn't rely so heavily on hair products.
Quiffs are good hairstyles for men who want to try going short, however, they aren't the shortest styles on the market. There are, in fact, plenty of styles that are even shorter and that require very minimal effort to look good.
These styles have an undercut, which is a type of buzz cut that is done on the sides and back of the head. Today, we're talking about low undercuts, which aren't as neat and tidy as middle or high fades but are simpler and more natural in appearance.
Low Fade & Hard Part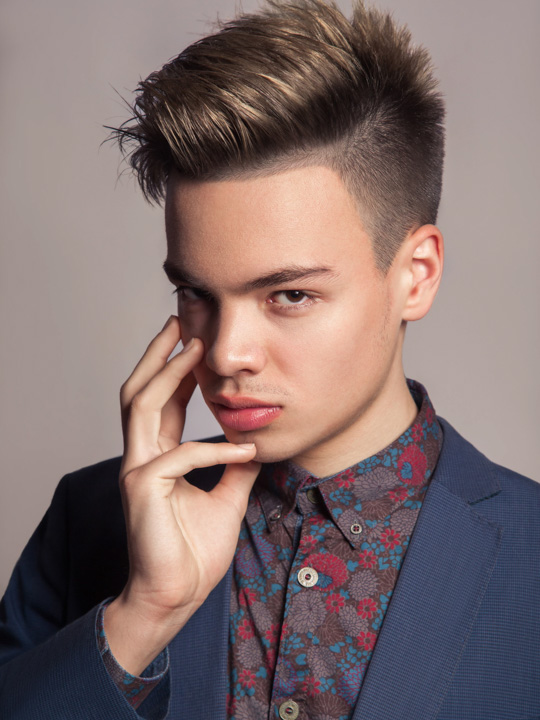 If you're looking to stand out without using your hair, opt for a hard part. As its name suggests, this parting method involves parting the hair at the side and top. Often, the hard part is paired with the low fade, which has the sides and back of the hair fading towards the edges of the hairline. This gives the hard part the space it needs to stand out and give you a classy, modern hairstyle.
Short Curly Haircut & Low Drop Fade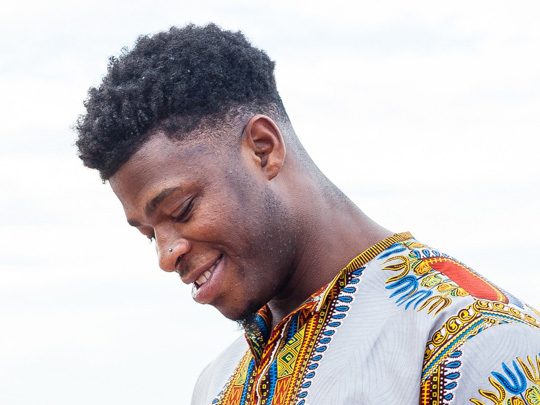 An awesome cut to add to the list if you have curly hair, this hairstyle focuses on looking neat and polished. It might sound like a challenge, but this style manages to pull it off quite successfully.
Curly hair is best left curly, and as such, you'll want to complement it with a natural style. Straight, low fades don't do the trick — they don't blend well enough with the curls at the top of the head so drop fades are used instead. By fading behind the ears, this style gives off a natural vibe that pairs well with the curls.
Mid Fade
Mid fades are fades that aren't too small to be considered a low fade and aren't too big to be called a high fade. They're the perfect mid-range option for someone who can't decide which kind of fade he wants. They're also less severe than the high fade but still offer a neat, polished finish that those very fades are known for.
Short Textured Quiff & Mid Fade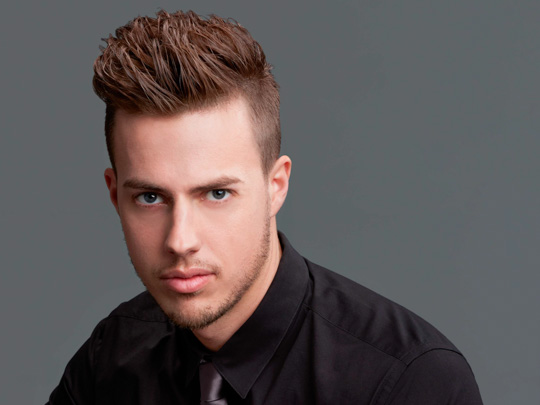 We've already gone over quiff haircuts, but they weren't combined with mid fades, like in this style. Quiff haircuts are incredibly versatile, as they can look rugged and manly or neat and tidy depending on how they're combed or styled.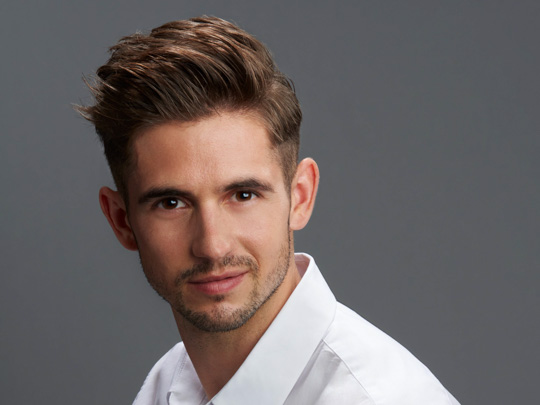 High and Tight Fade
The high fade is a guaranteed standout, because the exposure of the scalp makes it hard not to look at it. If fades could talk, the high fade would be the loudest. But that's not all it does — with little to no hair on the sides, the high fade helps focus people's attention on your eyebrows and facial hair.
High Temp Fade & Short Spiked Wavy Hair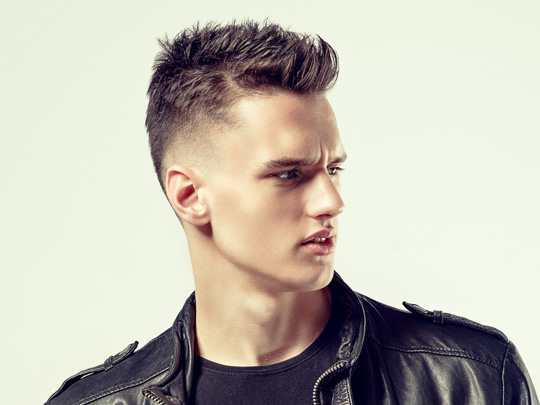 Looking to add some extra edge to your style? Look no further than a spiked hairstyle. At first glance, spiked short hair might look like a quiff or a fauxhawk, but there is a difference – and that is how the hair is positioned. Spiky hair is styled upwards, giving it the name "spiked hair".
If you choose to adopt this style, we recommend using a gel, wax or pomade for the best results. You'll need something firm enough to hold the spikes all day, and, luckily, any of these products will do just that.
Mohawks have long been the staple of boy bands, rockstars, and men who pride themselves on looking cool. Typically, the mohawk hairstyle has both sides of the head shaven or very short, with a strip of hair down the centre of the head that is long and styled into spikes.
Nowadays, the modern mohawk is often curly, wavy, tousled, or purposely made to be more messy and natural.
Short Mohawk & Fade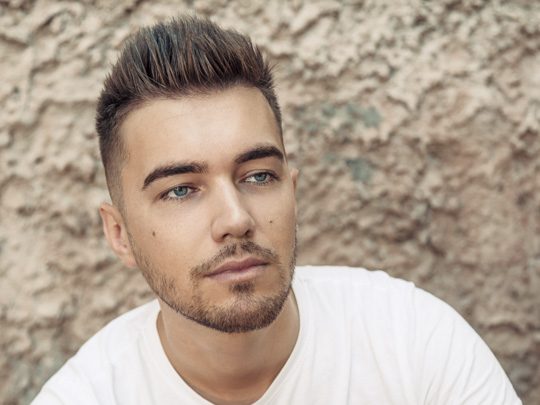 You know what the mohawk is and likely know a thing or two about fading as well, but have you heard of the mohawk fade? If not, you're missing out! This short style provides you with all the things you love about the mohawk and all the most popular aspects of the fades that everyone wants.
This style is easy to maintain and can be customized to suit your unique likes and dislikes, as well as your chosen profession.
Short & Spiked Mohawk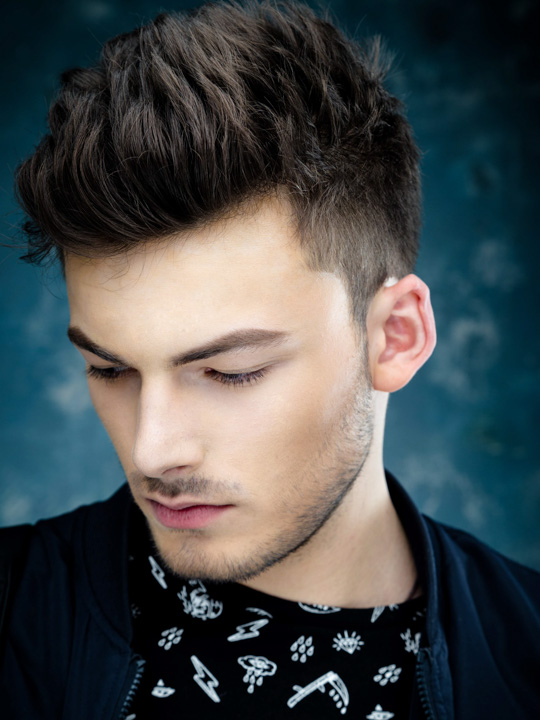 If you aren't sure what to get at all, then try going for a short and spiked mohawk look. It's not too bold, not too low-key, is relatively low-maintenance, and can even be styled into other hairstyles when grown out thanks to the top not being much longer than the sides.
Faux Hawk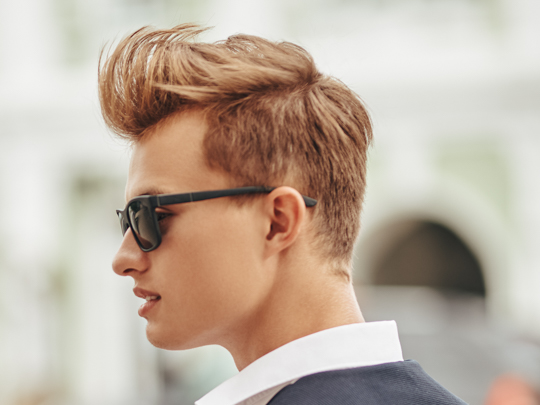 If you're not a fan of the bold statement that the mohawk makes but still enjoy the general premise of the look, there is a more low-key, relaxed alternative that could work for you. It's known as the faux hawk, which is a less defined version of the mohawk.
Spiky Mohawk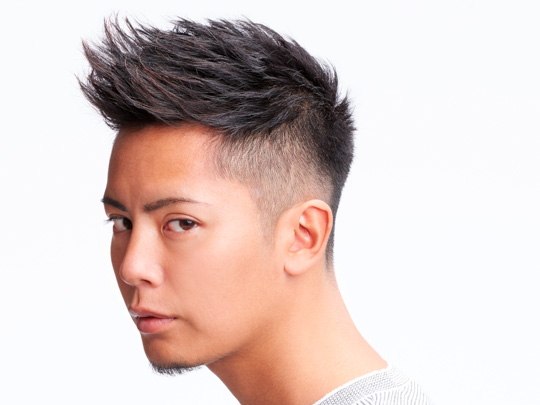 The spiky mohawk follows closely in the footsteps of the classic mohawk, but it has a more modern appeal. First of all, it looks much neater due to the way that it's styled. It also tends to be thicker than the classic, punk-rock mohawks we're used to seeing, which gives the hair more volume.
High Fade Mohawk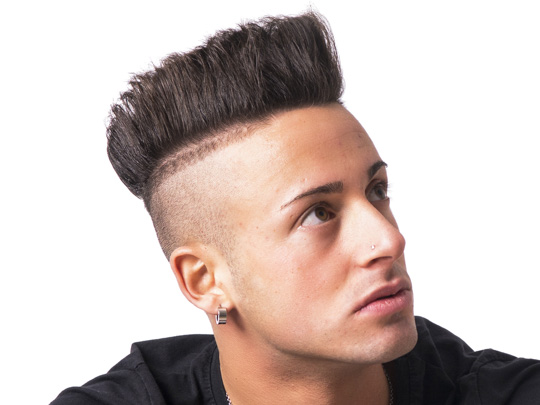 A combination of the mohawk and the ever-stylish high fade, the fade mohawk is gaining popularity with both young and old generations. The mohawk can be any length, which is what makes it such a great option. In this style, however, the fade is high, meaning it follows a clean, straight line as it goes back from the forehead, becoming shorter as it moves towards the back of the neck.
Short Comb-over
Short comb-overs were designed to be paired with a tailored suit, some nice shoes, and a day at the office. The short-comb over never goes out of style and has been in fashion since it first became popular.
Classic Short Comb-over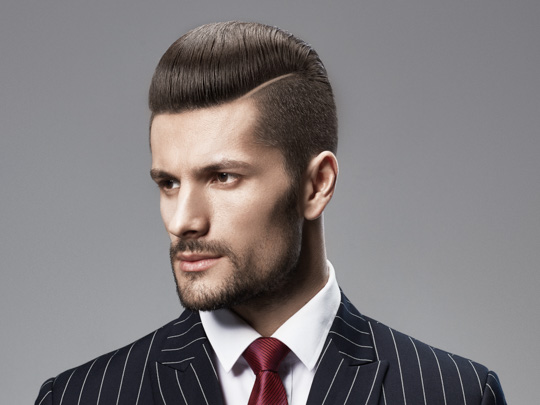 One of the cleanest, most polished styles on this list, the classic short comb-over has us thinking of a child having his hair styled for his class photo or piano recital. Of course, this doesn't mean that the comb-over is childish – in fact, we'd argue that it's a very classy, manly style, as many CEOs and important businessmen can be seen rocking it.
Crew Cut, High Fade, & Full Beard
Crew Cut, High Fade & Full Beard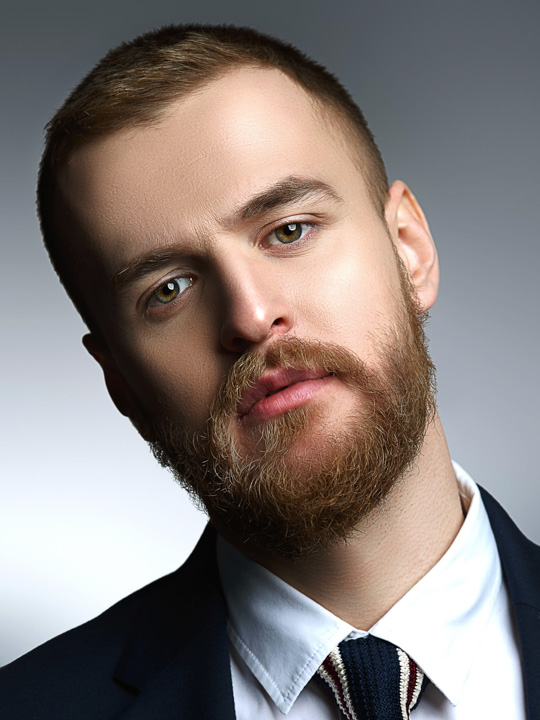 Are you proud of your beard? Are you looking to have it stand out? Then this is the hairstyle for you. The crew cut has been and will likely always be a simple style that's ideal when paired with facial hair that you're looking to draw attention to.
When you add a high fade to the look, your beard turns into the centre of attention.
Side Swept Crew Cut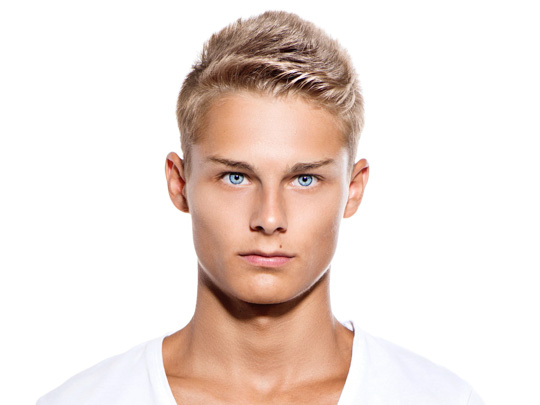 This is a great example of how a small adjustment can mean all the difference when you think of popular haircuts. The side-swept crew cut is a modification of the classic crew cut, with the only adjustment being that the hair is swept to the side. Voila!
Buzz Cut
Popular among athletes, buzz cuts are shorter than the crop, their distant cousin. They are often paired with side fades.
Buzz Cut Fade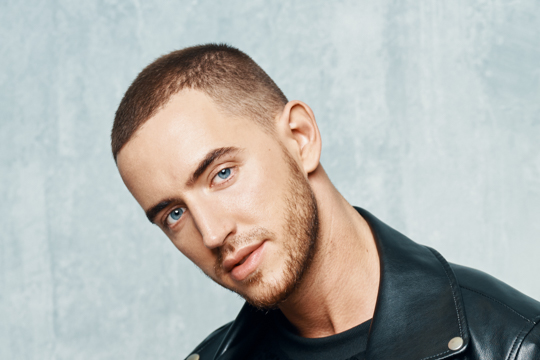 A simple style that looks great on almost anyone, the buzz cut fade uses the classic structure of the buzz cut and transforms it. It's made more eye-catching by the addition of a fade that starts at the length of the buzz cut and gets shorter as it moves towards the top of the head.
Buzz Cut with Beard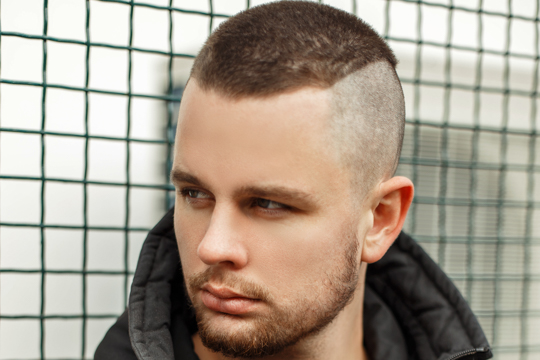 A buzz cut and beard pairing are bound to get you some extra attention – there's just something about this style that boosts a man's masculinity and gives off an air of toughness.
Pairing a buzz cut with a beard is a simple hairstyle trick that should be kept in mind.
Other Short Hairstyles for Men
Haven't found any short hairstyles that you like yet? Fear not, we have a few more options that don't really fall under any category so far but are stylish enough to be featured here.
Short Pompadour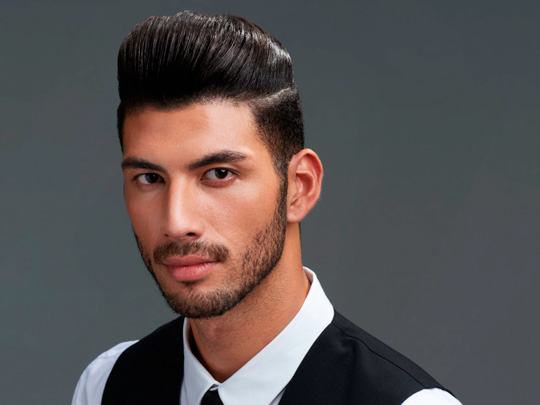 Named after a mistress of a former king of France, the pompadour is now used to refer to a men's hairstyle that's similar to a comb-over, only that this time the hair is combed backwards rather than to the side.
As a side note, pompadours are just as versatile as comb-overs. They're great when combined with different fade lengths and even side parts. Just be sure to use the right pomade or wax if you're planning on getting this hairstyle as some may find that their hair returns to its natural shape after a while.
Flat Top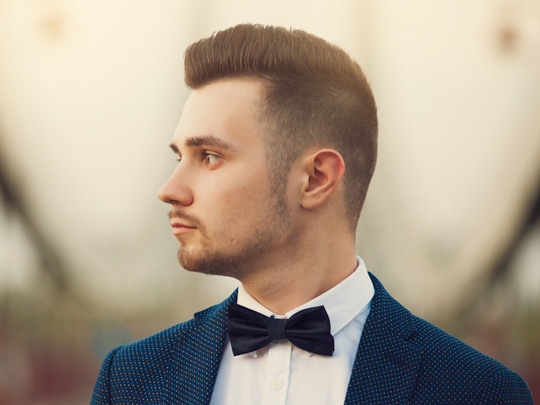 If you've played any of the Street Fighter games, you probably recognize this haircut from the character Guile. The flat top is a particular type of hairstyle that gets its name from the flat shape of the hair on top. Flat tops can be short, medium, or long, depending on personal preference and how well the hair can be held up with gel or pomade.
Curly Flat Top
While the flat top is usually associated with straight hair, curly flat tops are its own thing. Often not as long as a straight flat top, a curly flat top shapes the curls of the hair as flatly as possible.
What's cool about curly flat tops is that they can look very different, depending on the type of curly hair. Frizzy, curly hair (the kind that you'd see in afros) can seem more voluminous. Meanwhile, the wavier variants of curly hair look messier than the average flat top.
Medium-Length Hairstyles for Men
For a lot of men, the medium-length spectrum of hairstyles provides the most options. It's basically the goldilocks zone of hairstyles, as it isn't too short nor too long for the average Joe. You can quickly tell who'd look great (and not so great) in short or long hairstyles, but it's challenging to do the same for medium-length hairstyles. They work well with most face shapes and types, making them extremely popular among men.
Curtain Bangs - Popular from 2021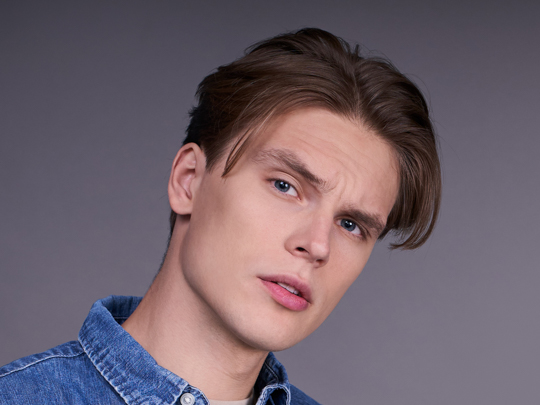 This '90s-inspired hairstyle is exactly what it sounds like; hair that is styled in such a way that it reminds us of window curtains. Curtain bangs were one of the most popular cuts in the '90s and early 2000s, and it's becoming more popular again.
With this style, the hair is parted in the centre and the fringe falls evenly on both sides of the face.
Comma Hairstyle
Comma - Popular from 2021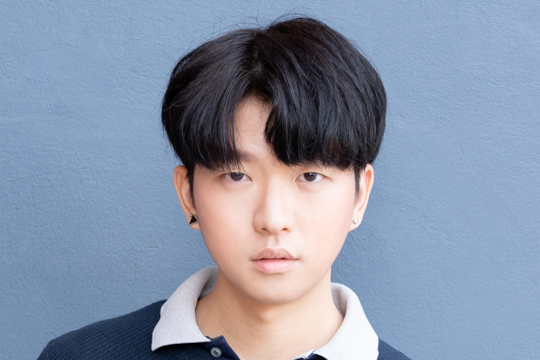 Get a medium-length haircut and curl your fringe inwards into a shape resembling a 'comma', and you will recreate this trendy Korean hairstyle in no time. Popular with male K-Pop artists and Asians, the comma is a hairstyle that features fringe on both sides of the part, with one side curling towards the centre of the face.
Messy Comma - Popular from 2021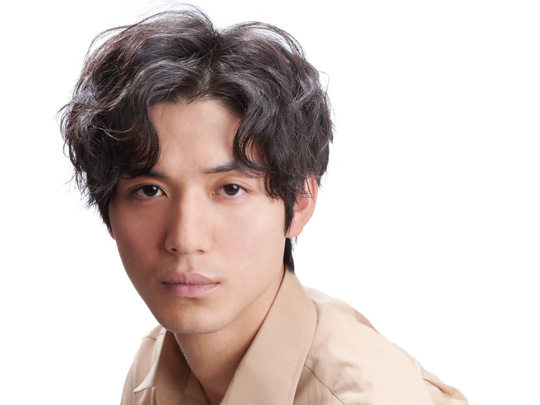 The messy comma is the perfect mix of chic and K-Pop. The messy comma is ideal for men with medium to long hair, as well as for those with thick hair and texture. Of course, this style can still be achieved with straight hair, with the help of products.
To get this look, the hair should be generally messy and tousled, but the fringe should curl in towards the nose on one side, mimicking the shape of a comma.
Classic Taper
The classic taper cut is, in many ways, a disconnected undercut. Hair on both the back and sides of the head is tapered and relatively short while the top is slightly longer and allows for various forms of styling. This short-to-long gradient gives it the name "taper".
Short Textured Haircut & Long Fringe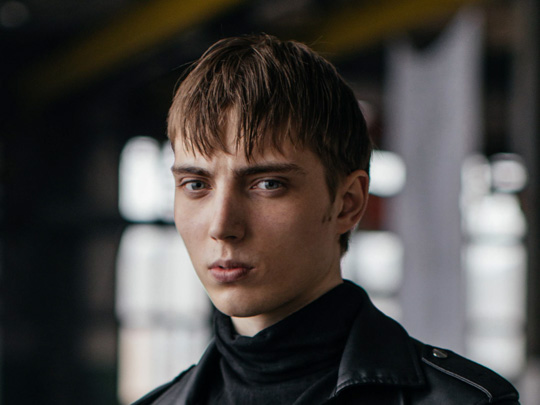 For many millennials, this particular haircut will bring back a ton of memories. Popular within the "emo phase" of the early to mid-2000s, this cut is still in fashion. A long fringe paired with a short cut looks surprisingly stylish and is versatile, too, as the short pair of the haircut can be anything from a buzz cut to a fade.
Arch Fringe & Scissor Taper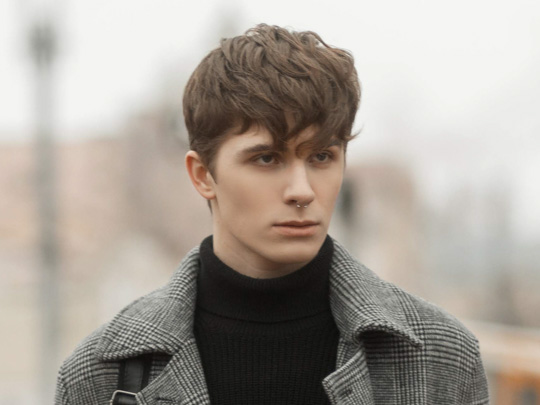 Looking to drop the shaver? Great! Why not opt for a look that's heavy on the scissors? Taper cuts already use a longer fringe which is primarily cut using scissors – this makes adding in some extra scissors work a reasonable idea.
This haircut can look great, but it's important to find a barber that knows their way around a pair of scissors.
Modern Slicked-back Men's Haircut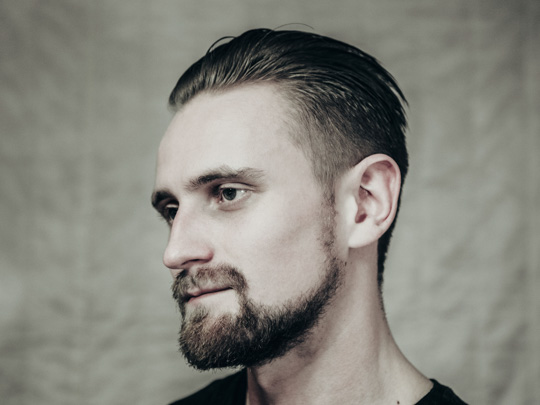 While this slicked-back style can resemble a pompadour, the two are completely different. The pompadour does give off an air of slicked-back aesthetic, but the term "slicked-back hair" is a category of cuts all in itself.
Classic Combed-back Style
Everyone loves the classics — including the combed-back hairstyle. It requires more maintenance than a buzz cut or crew cut, but it's almost always looked at as incredibly stylish and fashion-forward.
Confident Quiff Brush-up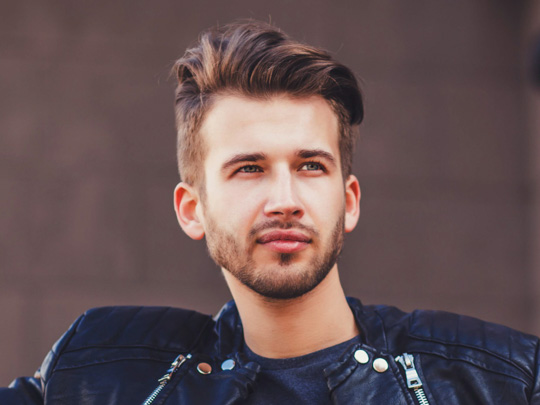 The quiff can be rocked with medium-length hair too, giving off a lot of attitudes. To achieve the correct look within this style, you'll need to have a bit of pomade or gel on hand, as well as a brush and a comb. Simply apply the product and use a bit of combing to brush up and back from the forehead. Voila — a confident quiff brush up!
Side-shaved Comb-over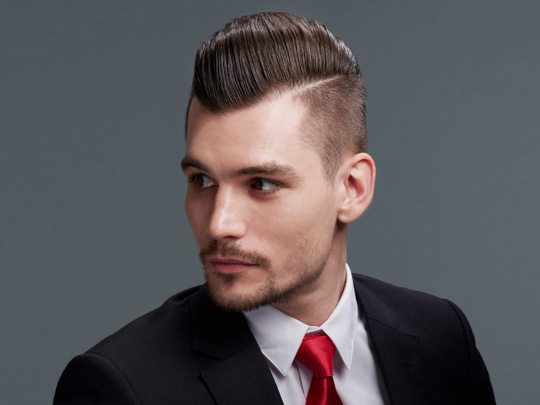 If the quiff doesn't tickle your fancy, you can always opt for a straightforward combed cut like this one. With the long, voluminous comb-over and very short sides, this comb-over is the definition of fashionable. It pairs well with both casual and business attire and is fairly easy to maintain. To give your local hipster a run for his money, add in a beard or moustache.
Brushed-back Scissor Crop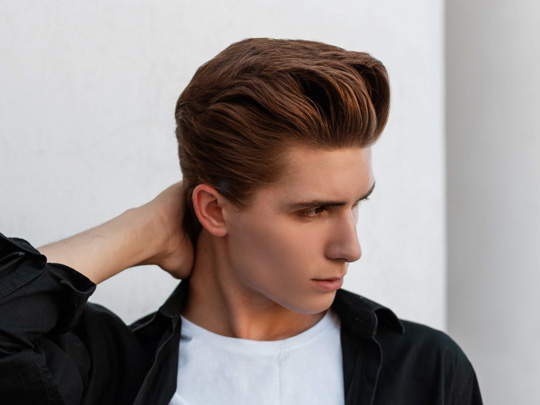 Generally, scissor crops are short. But if you've grown your crop out or have intentionally decided to keep it a little longer, this might be the perfect hairstyle for you. All you have to do is brush out the hair on top of your head.
Here are a few more pomp ideas for all of you out there who think that the short pomp just isn't long enough.
Modern Pompadour Undercut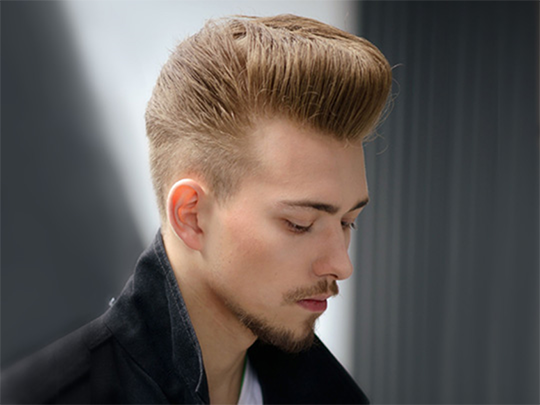 If you appreciate a good head of hair, you'll appreciate this cut. The pomp is the main attraction for this style, obviously, but the best part is that it looks great on a clean-shaven face or in the presence of a beard.
Since the undercut is still popular, it's common to pair this giant pomp with a classic undercut, which adds intrigue to the look while also giving the pomp plenty of room to be the star of the show.
Textured Pompadour Fade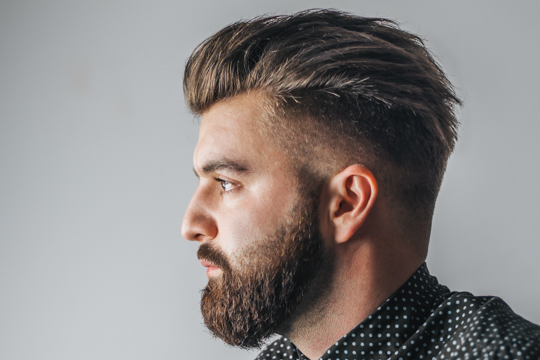 Pompadours and fades; a combination that no one would have seen coming but continuously proves to be one of the most popular hairstyle combos among men. This textured pompadour is best done when paired with medium and high fades.
Messy Textured Pompadour & Low Fade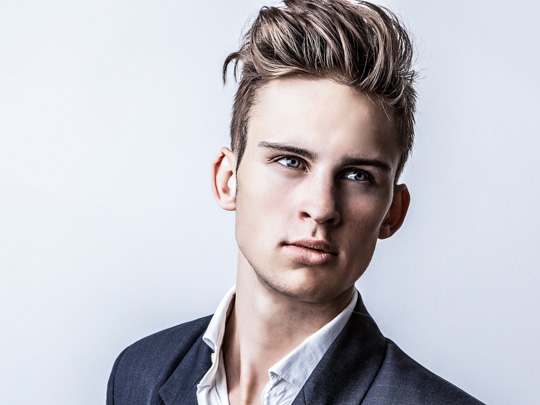 While low fades aren't generally a great idea when paired with pomps, there is one exception and it's this ultra-modern haircut. When you're sporting a messy or wavy pompadour, a low fade compliments it well, since it is neat and tidy. Using this pairing, your pomp will have a natural and rugged, manly feel.
Classic Pompadour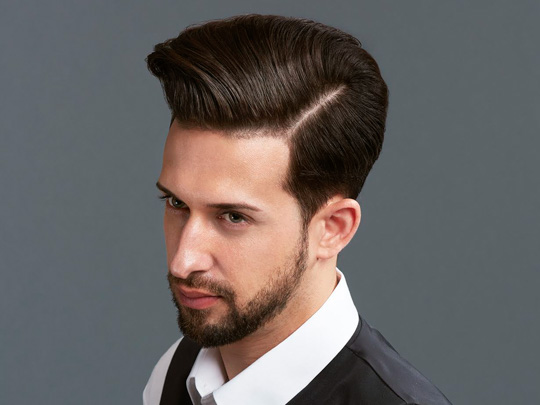 The classic pomp is exactly that — a classic. If you have a pomp of any kind, it's almost certainly been inspired by the classic pompadour. The main difference between the classic and the modern pompadour is the cut on the sides of the head, with modern pomps sporting super short sides, undercuts, or shaved sides and the classic having slightly shorter sides and a slicked-back appearance.
Undercut with Stylish Pomp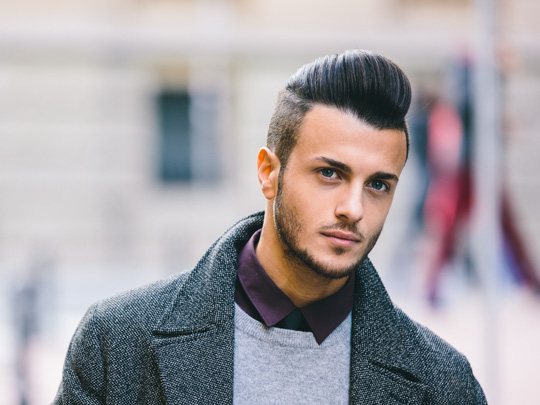 This fashionable pomp is the perfect length — not too short and not too long. Its unique length makes it great for adding volume to the hair.
Medium Length Haircut & Mid Fade
Here are a couple of other medium-length hairstyles that make good use of a nice mid fade.
Medium Side-swept Men's Hairstyle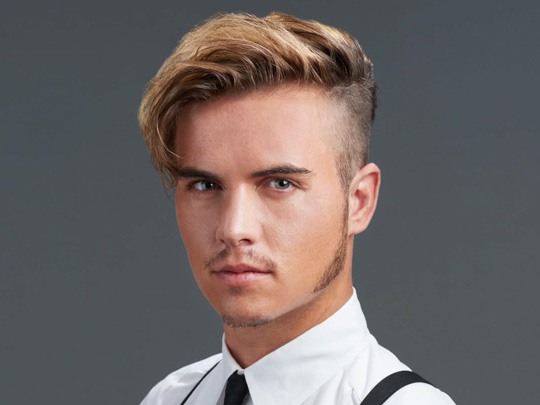 If you'd rather finger-comb than use an actual comb, a side-swept haircut is just the thing for you. With medium-length hair on the top of your head, this haircut gives you enough volume to look fashion-forward and stylish, while also keeping it short enough to be easily managed using pomade or gel.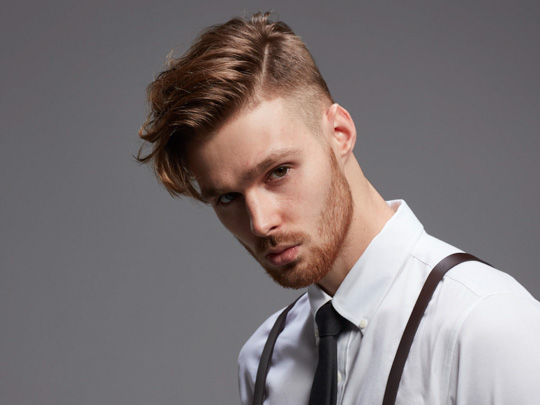 Curly Fringe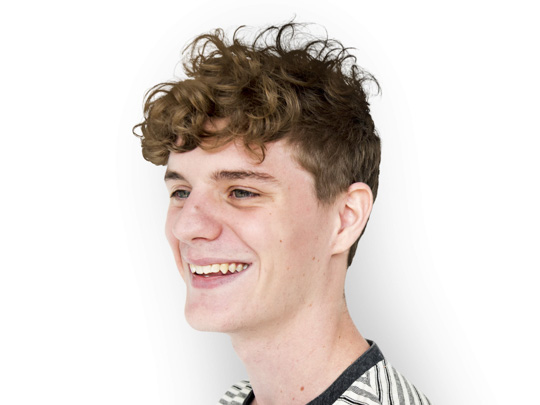 Even though the curly fringe is a style that will likely always be in style, it's a look that only a small percentage of men can pull off. If you're one of the lucky few who can, then you should definitely give it a go.
Curly Fringe & Classic Taper Fade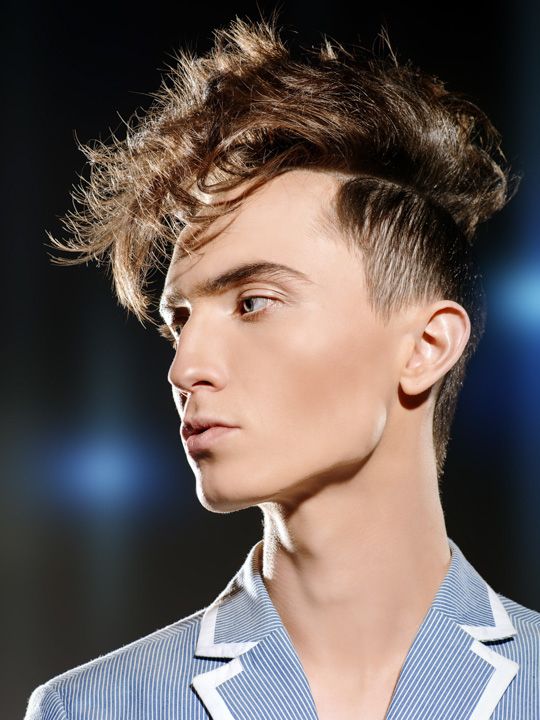 There's a lot going on in this hairstyle. From the youthful, fun curly fringe to the modern fade and tasteful tapering, this style draws the eye in a million different directions. Say hello to a show-stopping look.
Men's Hairstyles with Added Mess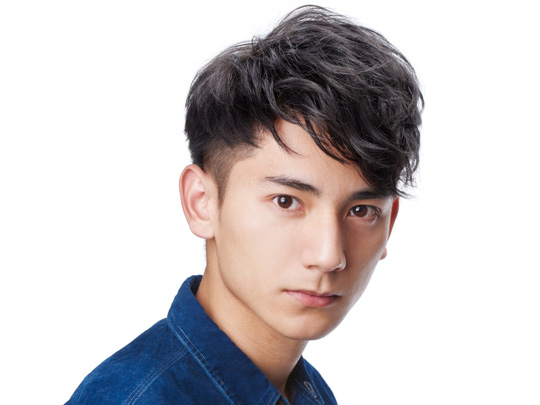 Feeling a little wild lately? A messy hairstyle can really go well with that personality. If you've got thick hair, though, you may find it difficult to shape it the way you want. Fortunately, some styles can make you look as wild as you want without forcing your hair to stand up in weird shapes.
Side Part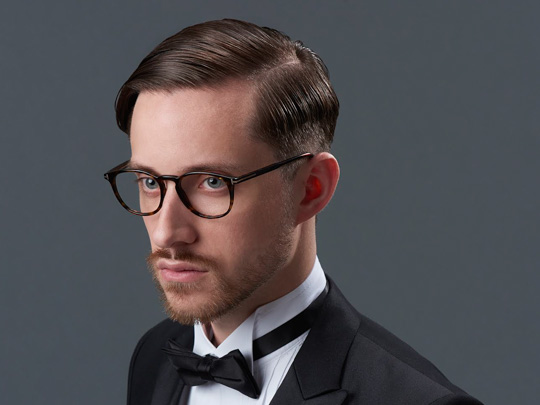 Side parts, in a way, are more of an accessory to a hairstyle than a hairstyle in itself. For example, you can add one into a quiff, a slicked-back haircut or even a pomp if you're feeling daring. There are plenty of reasons to throw in a side part, since they make your top more pronounced while presenting a cleaner look.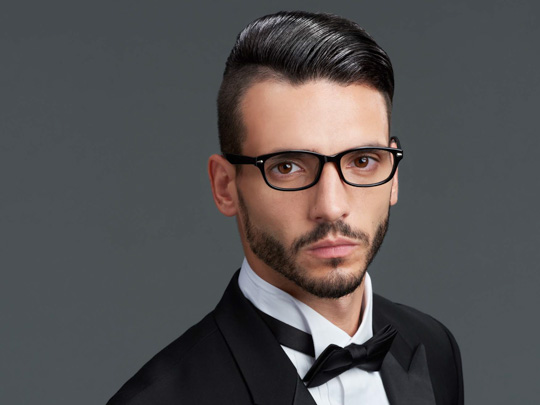 Relaxed Side Part - Rising Popularity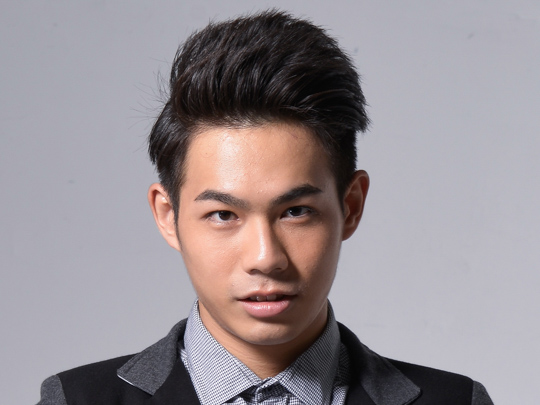 A relaxed side part is the less severe, more natural-looking cousin of the classic side part. It suits just about any face shape and works the best on medium-long, and has been getting popular in recent years.
Natural Hairstyles
Natural Bowl Cut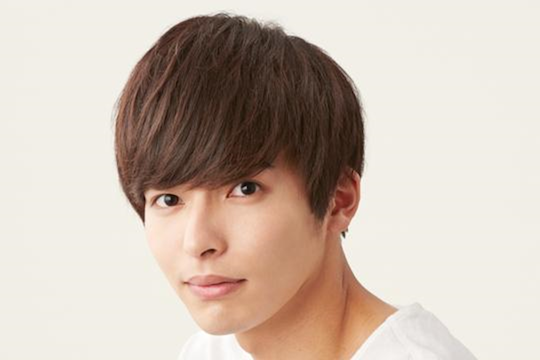 Though bowl cuts were at their most popular during the '80s, there are still renditions of them that pop up today. The natural bowl cut can make a great hairstyle, provided that you have the face shape for it and the time to maintain its length in order for it to keep its signature round shape.
Modern Bowl Cut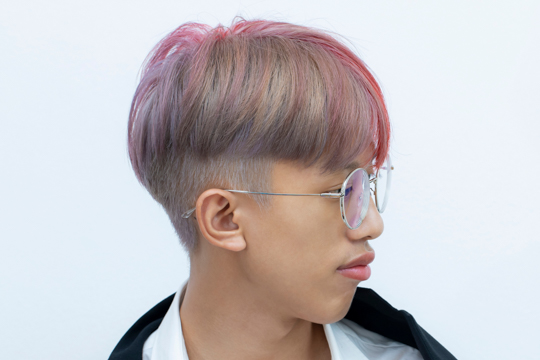 Also known as the 'Korean mush', the modern bowl cut is a modernized version of the traditional, natural bowl cut. It has a straight horizontal angle that connects the sides of the cut to the fringe in the front. There are a number of fun things that can be done to achieve this style, including combining a short bowl cut with a fade.
Bowl Cut with Short Bangs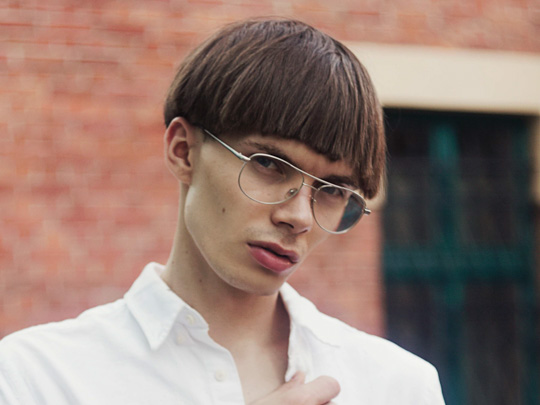 Yet another variant of the modern bowl cut, this shorter-fringe bowl cut has the fringe stopping just above the eyebrows. Its signature feature is the straight, forward line that runs from the ears and across the forehead.
Bowl Cut with Side-swept Bangs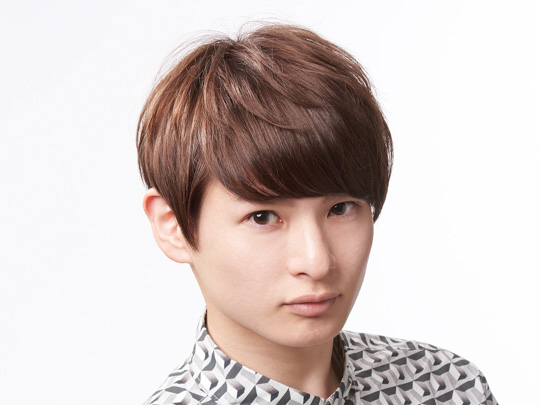 If the regular bowl cut doesn't interest you, mix it up a bit! Instead, keep your fringe a little longer and direct its flow to the side of your face by running your fingers through it. A simple side sweep is a great way to transform a basic bowl cut into something more modern and exciting.
Guile Cut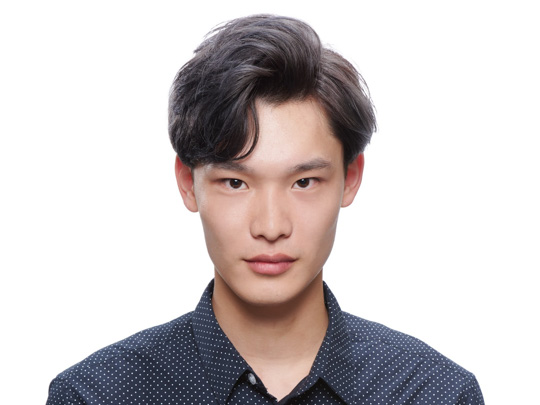 The guile cut is trending among South Korean men. It is a mixed hairstyle with prominent sides, which are achieved by using both clippers and a razor. Adopters of this style can utilize their natural hairline and hair growth pattern, making it one of the most naturalistic styles on our list.
Medium Haircuts for Men
Natural Waves Medium-length Men's Haircut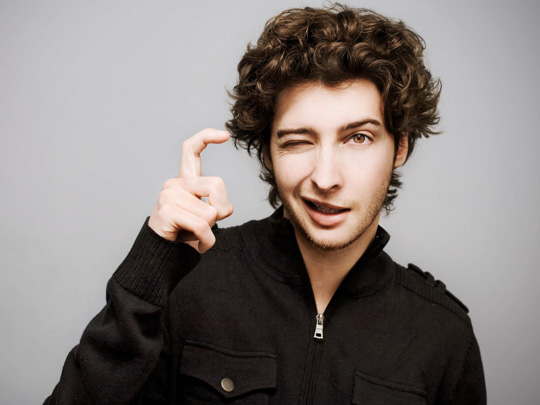 While it's impossible not to appreciate a hairstyle that takes a lot of time, it can sometimes be best to let your hair do all the hard work. This hairstyle lets your hair do the hardest part, requiring nothing more from you than a light combing.
Ear Tucked Part
As a basic style that uses either a side or middle part and has the wearer tucking both sides of the part behind their ears, this style shouldn't and doesn't require a lot of effort to achieve. It's ideal for those with medium to long hair as well as those who have naturally wavy hair or a long fringe.
Long Hairstyles for Men
Long hair isn't for everyone — especially those who live in warm climates or who lack the time and patience to style and maintain it. But if you're interested in making a statement with your hair, long is often one of the best ways to go.
Hairstyle for Long Wavy or Curly Hair
Long Curly Hair Fade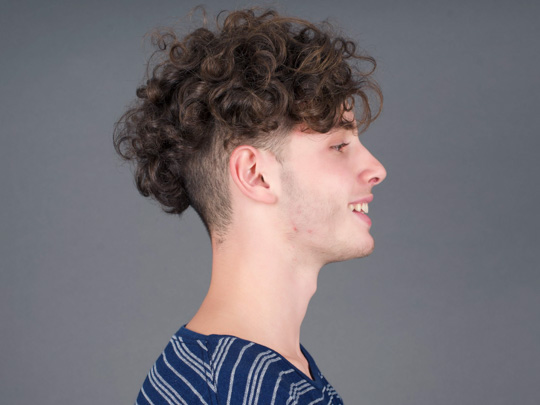 The long curly fade is a contemporary style that complements its wearer's confidence. It's a powerful way of embracing the aesthetic of natural curls while also keeping your hair care routine short, sweet, and simple. By leaving some length on top, you're able to show off your curls, while the undercut and fade on the sides work to emphasize the look.
Longer Men's Hairstyle for Curly or Wavy Hair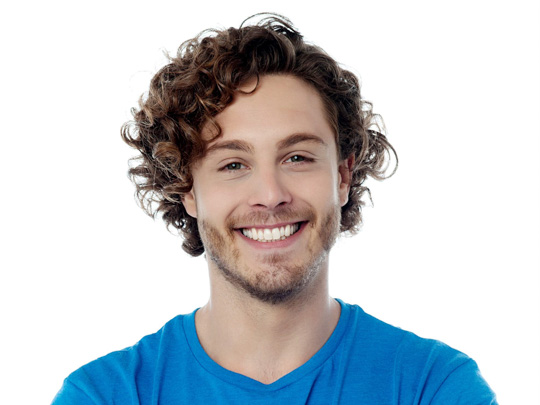 If you've got curly or wavy hair, one of the best ways to show it off is by just letting it all down. It never hurts to keep it simple, and with curly and wavy hair, you don't need any elaborate hairstyles to stand out. Just be prepared as you'll need good hair products and regular combing to maximize the look.
As a complement to your long hair, you can grow out your moustache or beard to match. You could go for a simple, minimal look or a more elaborate look like the anchor beard shown in the picture. If you'd rather just get a clean shave, then that works fine too.
Modern Undercut & Longer Hair
If you want something longer, fancier than short undercuts, but are not interested in something as simple as growing your hair out and calling it a day. Then we'd recommend undercuts paired with longer hair — the perfect combination.
Undercut with Long Tousled Top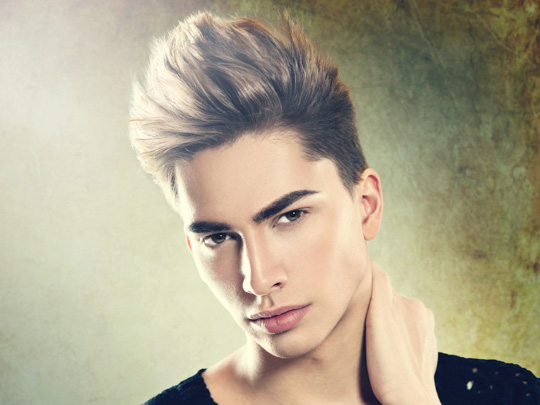 Tousled hair can make you stand out, however, it can also be challenging to pull off. To achieve a look like this, you'll need long, thick hair and a handful of products including a matte hard wax. When it comes to styling a tousled look, take your time to get the hang of it as it's important to find the perfect balance between classy and messy.
Side Swept Undercut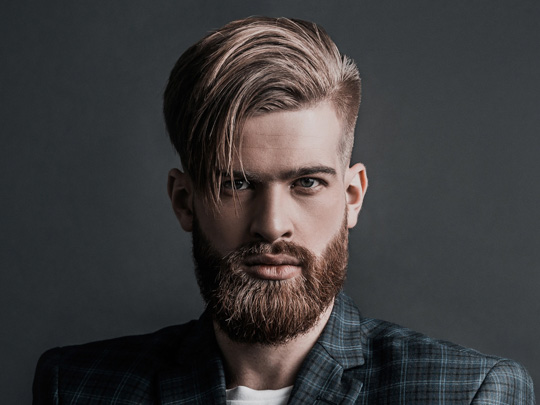 Side-swept undercuts are the little cousin of the tousled hairstyle. Instead of having to toss your hair around and risk creating knots, this style involves only a comb and some good pomade. As the name suggests, this cut features long hair that's been combed to the side, as well as an undercut on the sides of the head.
Long Spiky Hairstyle & High Skin Fade
Yeah, undercuts are cool and all but if you're the type of person who prefers a clean-cut style, then high fades are a great alternative. These cuts erase almost all of the hair on the sides of your head, allowing the eyes of everyone around you to be drawn to the top of your head, where the volume and intrigue is.
Long Hair Slicked Back & Shaved Sides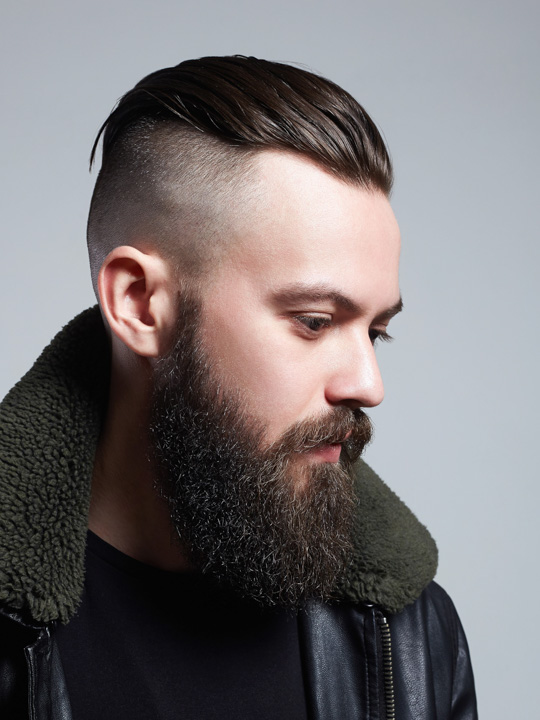 The long, slicked-back style is one of the most popular hairstyles that frequently makes use of high fades. Chances are that you've seen a number of men on the streets who sport this style, and if you have, you probably agree with us when we say that this style oozes manliness and confidence. Since there is no hair on the sides, the slicked-back top hair gets all the attention.

This style looks great on its own but also goes well with a beard or beard-moustache combo.
Samurai Haircut (Top Knot or Man Bun)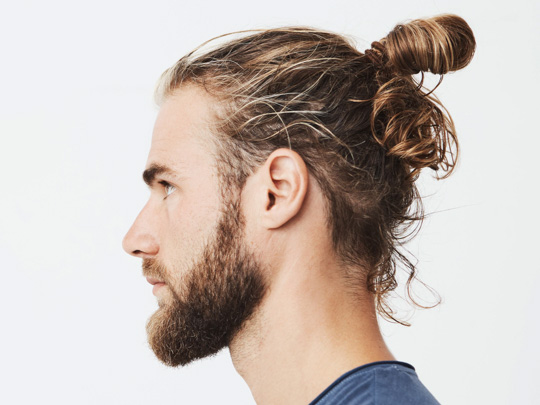 Loosely based on the traditional hairstyles of the Japanese samurai but known for being "hipster" and cool today, the man bun is both high-fashion and manly. When paired with a high fade and some facial hair, this style screams confidence, relaxation, and laid-back, good vibes.

If you're looking into adopting the man bun, be sure to have the products you need on hand. In addition to any styling products you like, you'll also need an assortment of hair ties, varying in size based on how large you want your bun.
Longer Natural Flow Hairstyle & Short Sides
Low Fade & Long Curls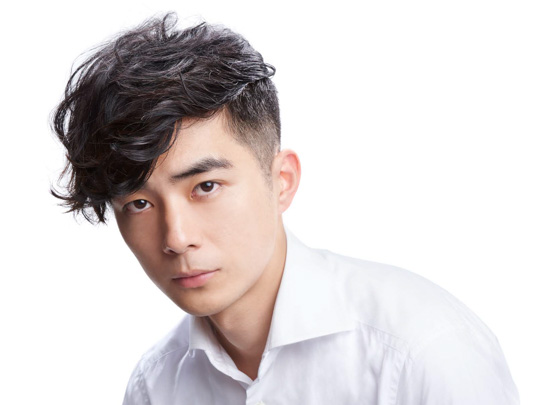 Long curls with a low fade might be the perfect style for you if you like the natural look. If your hair is naturally curly, this style does wonders to enhance its appeal, by leaving those luscious curls untouched. This is a similar style as tousled but gives a more natural atmosphere while being less dishevelled-looking.

Haircut for Long Hair
Long Hairstyle & Beard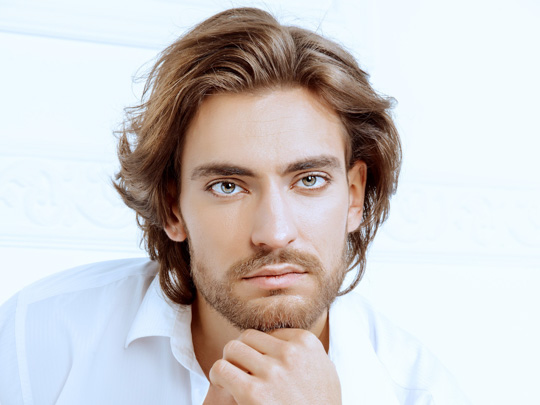 Long hair is great, but sometimes you just don't know what to do with it! Perhaps you've grown attached to it or are hesitant to change your signature look. Regardless, there's nothing that says you have to cut your long, hard-grown locks. Instead, why not just grow a beard?

Beards and long hair have gone hand-in-hand for decades and continue to stand the test of time. They are a pairing that makes the wearer look manly and carefree, but also make him look stylish and professional when paired with the right outfit.
Man Bob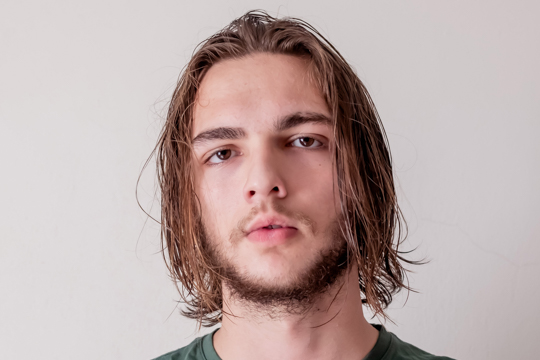 Typically, the bob features straight, jaw-length hair and may or may not include a fringe. In the case of the man bob, this style is set apart from the traditional woman's bob with the addition of thick, hipster-like glasses and/or a beard.
Johnny Depp, an American actor who's known for his role in the ever-popular Pirates of the Caribbean franchise, is known for rocking this style, with a long bob that hits his shoulders and falls straight down.
Make 2022 the Year You Find Your New Men's Hairstyle
The right hairstyle can make you look more attractive and showcase your killer personality. Anybody with a proper haircut, coupled with the right clothes and accessories, can expect to become a head-turner. You don't even have to go overboard with your style! Simple, low-key haircuts are more than enough to turn heads, so long as they suit you.
While having the right cut is the foundation of a proper hairstyle, equally important is using the right products to achieve the full look. Each hairstyle has its own particular needs, and everybody's hair is unique.
Over many decades, we have developed a range of products specifically designed to tackle, transform and compliment men's hairstyles. Whether you need a quality pomade, wax, clay, gel, or hair spray, GATSBY has you covered.